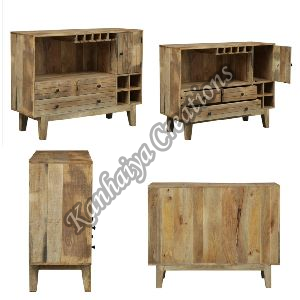 Bar cabinets are extremely space-friendly, no wonder why people can introduce them in almost any type of home; be it a luxurious villa, a pint-size apartment, or even a spacious bungalow. If you are a party animal and love having guests at your home almost every weekend, then a bar cabinet is a must-have for your private sanctuary.
However, you just cannot randomly put it in a bar cabinet anywhere you like. You would need proper planning and a little creativity to incorporate the same in the perfect location of your house.

Know This Before Installing Your Bar Cabinet
Though bar cabinets best look in a living area and or in your kitchen, you can even install them right underneath the staircase or even in the dining space. To make things different, you can even try incorporating bar units in your garden or terrace if you have an outdoor bar. Irrespective of where you place them, remember bar cabinets demand utility lines be drawn both from your fridge and lighting. So, make sure to keep them near to a sink.

Different Ways to Introduce Bar Cabinets
Bar Cabinets in Your Kitchen
The kitchen is one of the primary areas which comes to your mind when you think of bar cabinets. When you decide to install a bar cabinet inside your kitchen, you can store a whole lot of things inside; starting from liquor to food items and even serve ware.
Guests usually reunite in the kitchen area, so having a bar cabinet there will only help in quick serving. The refrigerator is also placed in the kitchen, so which makes the process of procuring ice easier and quicker.

Bar Cabinets in The Entryway
If you live in a spacious apartment or bungalow then you can always install your bar cabinets at the entryway. The entryway is one of those spaces in your house which allows you to flaunt your bar cabinets classically. Just load up on sufficient openers, mixers, tongs, glasses, and alcohol so you don't need not have to go back and forth to the kitchen to serve your guests.

Bar Cabinets in The Dining Room
The dining room in almost every house is filled with guests and people who come together for dinner parties. And though you can always count on sideboards to keep your utensil sets and dining items, bar cabinets can also do justice to your dining space.

Bar Cabinets at Small Corners
At every house, there is this small corner that is pretty abandoned. By installing a simple bar cabinet with a sufficient vertical storage limit in that corner along with bar stools to make way for an adorable drinking nook. Stay simple when decorating the bar cabinets when putting them in narrow spaces.
These are some of the best ways to incorporate bar cabinets in your interior design. To get the best bar cabinet as per your need, space, and type of home check out the product catalogue of the bar cabinet suppliers. You would be amazed to explore the various kinds of bar cabinets available with them.
This entry was posted on August, 30, 2021 at 15 : 49 pm and is filed under Storage cabinet. You can follow any responses to this entry through the RSS 2.0 feed. You can leave a response from your own site.