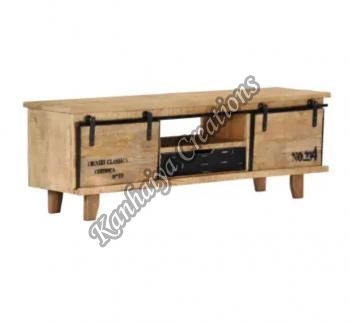 TV stands and brackets manufactured by TV stand manufacturers in India can be found in any furniture store, which is no surprise considering the numerous advantages offered by these models. While an entertainment unit offers adequate storage space, a large unit in their living space cannot be adapted to many small homes without sacrificing comfort. On the other side, by putting the television on the wall, a TV mount would free up space in your house.

One should remember, among some of the most obvious advantages of TV stands and brackets:

Ideal for flat-screen televisions
Flat-screen TV stands are one of the best options. A wall-mounted TV usually looks better than a stand, and since the flat screen has long been a staple on the market, it's one of the best options for modern living space.

Provide some extra storage
The TV stands and brackets are one of the easiest ways to combine design and functionality. First of all, models like this would give you the chance to hang your flat-screen TV on the wall, while a conventional stand construction typically includes extra storage, a great advantage for small rooms – particularly if you do not like to show any of your things.

Come in many styles
One of the best things about TV stands and brackets is that there are several different models to choose from. You can go for a traditional wooden stand if you look for a classic model. One of the main benefits of wood is that it comes in several different colours so that you can still find an exact colour that fits your interior. Alternatively, wood can be replaced by a lighter and cheaper MDF in fine condition.

MDF, covered in a high gloss finish, is another trendy solution. This is a rather memorable and elegant interior decoration approach, so you should certainly take this choice into account when designed in a contemporary style. Moreover, several high-gloss stands have built-in LED lights in the modern and light living rooms which are excellent.

Glass stands are another choice in your room that can build a very sophisticated atmosphere. Some are made of traditional, clear glass, others are tinted.

One of the most effective solutions for space
TV stands and kits are, in general, some of the most space-efficient solutions for tiny, narrow and unusually built spaces, regardless of what model you select. And, of course, you have no trouble incorporating a booth like this if your space is very ordinary.

Increased safety
According to the Committee on Consumer Product Safety, a child is fatally wounded every two weeks by dropping mobility or TVs. With their large slim structure, flat-screen TV's can fall with thousands of pounds of force. Tipping can occur extremely easily. The TV anchors are mounted to the wall, but many homeowners are reluctant to damage hardware walls, or there might be an improper stud for a wall mount in their TV site.

Final Words
A TV stand is not only an elegant addition to your lounge but can also free up space and enhance your home by offering additional surfaces and storage rooms for multimedia pieces.


This entry was posted on May, 11, 2021 at 10 : 55 am and is filed under TV Stand. You can follow any responses to this entry through the RSS 2.0 feed. You can leave a response from your own site.